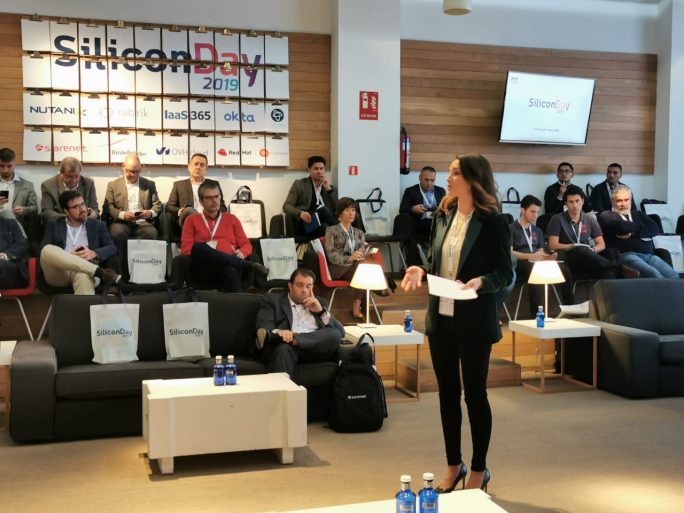 Durante la jornada de Silicon Day 2019 se abordaron temas como la importancia de las estrategias multicloud, la digitalización del trabajo o la ciberseguridad.
El pasado 12 de noviembre tuvo lugar el esperado Silicon Day 2019, un evento que arrancó en manos de Mónica Valle, periodista experta en ciberseguridad, y que trató de abordar las últimas tendencias en entornos multicloud y TI.  
La jornada comenzó hablando sobre ciberseguridad, y es que no se puede negar que el volumen de datos ha crecido de forma vertiginosa presentando además un doble problema: estos datos son difíciles de tratar y son vulnerables. Precisamente por eso, se tornan necesarias ciertas estrategias que garanticen la seguridad de estos mismos; teniendo en cuenta los costes, no sólo económicos, sino reputacionales.  
Según datos que compartió Mónica Valle: "El 90% de las empresas apostará por entornos multicloud en el año 2020, ya que les permite agilizar esas dinámicas de trabajo de una forma segura". Pero para ello es necesario diseñar estrategias globales de ciberseguridad para las empresas.  
La primera tanda de ponencias la inició Juan José Rey, director de Ventas de Sarenet, en la que explicó el trabajo que hacen para garantizar una barrera de seguridad perimetral entre lo que ellos llaman la Red del Cliente y la Red Pública. Así, "se proporciona un continuo flujo de datos sobre el tráfico que está interaccionando con su IP de tal manera que tendrá la posibilidad de aplicar filtros gracias al router frontera de Sarenet y bloquear esa interacción".  
Por su parte, Juan Per Muñoz, responsable territorial Iberia de Okta, explicó qué es lo que tiene Okta para que, a nivel mundial, más de dos millones de clientes hayan decidido confiar en sus soluciones. "Somos independientes y neutrales, focalizada 100% en la gestión de identidades". Y recalcó que: "Nacimos hace 10 años como una compañía 100% SaaS, aunque con algunos matices. Una de las ventajas de Okta como herramienta es la capacidad de gestionar la identidad end o end".  
Queriendo compartir su punto de vista, Juan Per dijo: "En la mediana y gran empresa hay mucho Legacy, por lo que se hace un modelo de transición para integrarse con ellos. Creemos que la identidad del usuario es el nuevo perímetro".  
Acto seguido se dio comienzo a la primera mesa redonda, en la que la conversación giró en torno a la "seguridad intrínseca y ubicua en un mundo TI cada vez más complejo", donde participaron Jean-Paul García-Morán, Security Advisor de CyberArk, Juan Jesús Merino, National Channel Country Manager de Bitdefender y Juan José Galán, Strategy Business Development en All4Sec.  
Cada uno de los participantes en esta charla concluyó en una idea clara respecto al tema clave. Jean-Paul tiene quiso defender que "la preocupación general es no poder acceder a los recursos de tu propio negocio. Hoy en día los ataques son tan sofisticados que no podemos identificar 100% los riesgos la mayoría de las veces".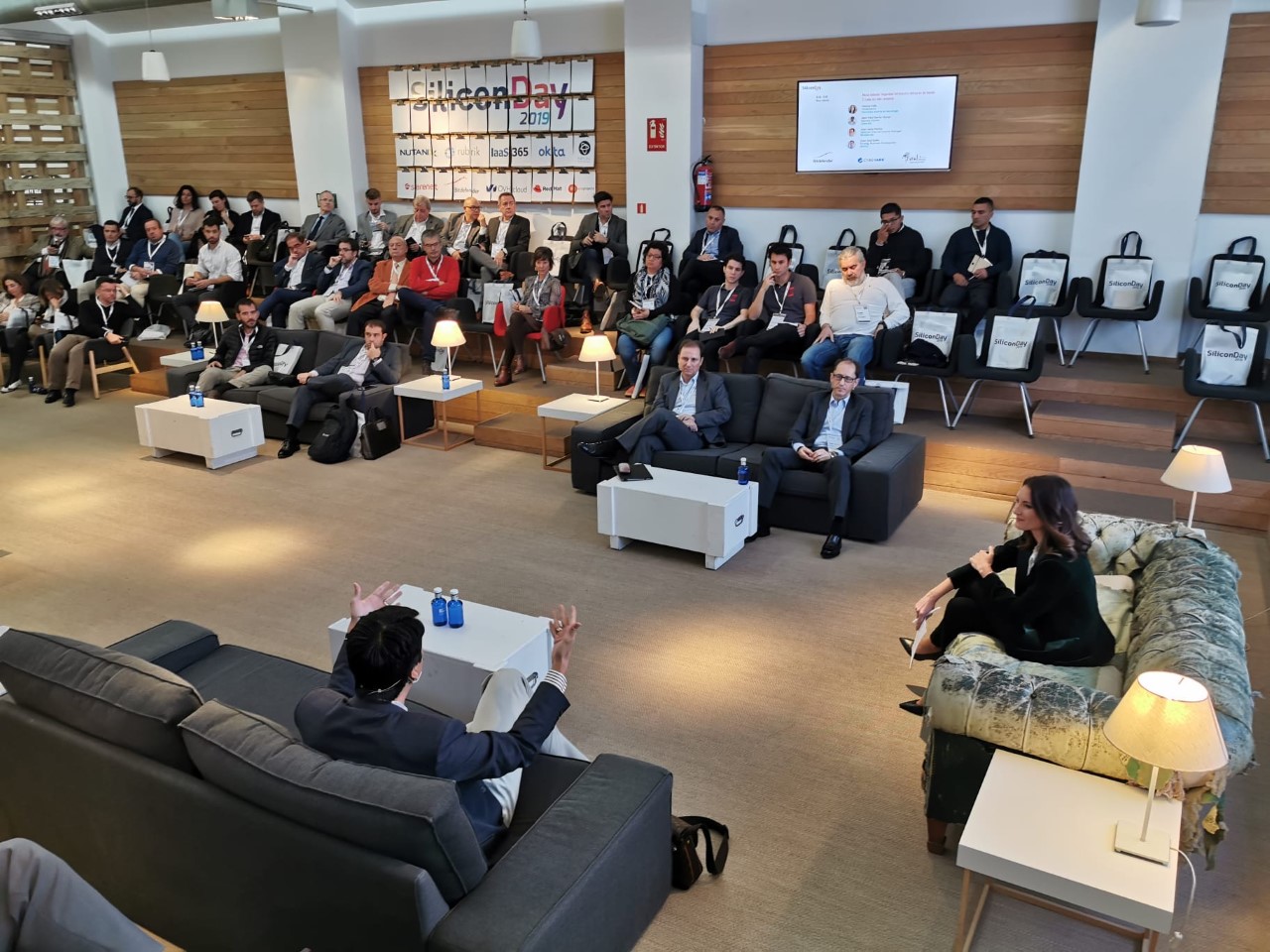 Aunque hasta hace un año los ataques de ransomware en los más frecuentes, la realidad es que a día de hoy han sido superados por el cryptojacking. Por sus consecuencias, los ataques de este tipo más críticos serían someter al CEO de una compañía a un fraude y el robo de información. Juan José Galán opinó que "esto es una industria organizada, los cibercriminales están organizados como si de una empresa se tratase". Aunque por su parte, Juan Jesús Merino, dijo que "más del 30% de ataques se han considerado críticos"; y añade: "al final hay dos elementos comunes, básicamente una gran parte de estos ataques provienen de vulnerabilidades que conocemos y que a nivel corporativo no tenemos actualizados. El ransomware es la estrella, pero en el mundo de la nube y el IoT, los asistentes de voz van a proporcionar la posibilidad de ciertos ataques de seguridad solamente por unos sonidos concretos registrados en dichos dispositivos que abren la puerta a estos ataques".  
Aquí surge la cuestión de saber hasta qué punto es importante implementar esas técnicas proactivas. Está claro que se necesitan herramientas, pero cada vez resulta más complejo para las compañías gestionar esa seguridad. Lo que indica que, de por sí, si un sistema es complejo ya indica cierta falta de seguridad.  
Sin duda, la cloud pública nos ha proporcionado un volumen de datos que necesariamente tenemos que saber gestionar. Si analizamos la cantidad de aplicaciones móvil que tenemos y cómo consumen estos datos, resulta que tenemos cada vez más ubicaciones donde almacenar esas cargas y ejecutar esos datos. "Lo ideal sería poder tener total visibilidad end to end de las cargas", afirma Alejandro Solana, GSI/GSP Solution Architecture de Nutanix, sobre la estrategia multicloud.  
A estas alturas de la jornada del Silicon Day se planteaba una cuestión: ¿Podemos olvidarnos de la infraestructura legacy? El momento en el que vivimos nos hace dividir la tendencia en dos caminos distintos: multicloud y cloud híbrida.  
Por un lado, la opción multicloud repara en que los usuarios apuesten por apps ya preparadas por su cercanía y compatibilidad. En este caso, "desde IaaS365 se asesora y acompaña en el proyecto de transformación hacia la cloud pública", dijo Fernando Calvo, Director de Desarrollo de Negocio de Iaas365. Por otro lado, en cuanto a la cloud híbrida, Teresa Muñoz, Senior Sales Engineer de Rubrik, dijo que "hay quien aún tiene su core apoyado en una infraestructura legacy, por lo que todo su ecosistema no puede ser 100% transformable a la cloud".  
No cabe duda de que a día de hoy las empresas ya van asentándose dentro de ese camino hacia la cloud. Poco a poco la inversión en la nube va subiendo, y según los analistas seguirá creciendo. Según Alfonso Boedo, Director Comercial de NFON: "La tecnología ha evolucionado hasta permitir a cualquier empleado trabajar en remoto desde cualquier lugar del mundo, pero para ello la cloud ha tenido que evolucionar".  
Esto es lo que ha supuesto la digitalización del puesto de trabajo y para ello, NFON ha lanzado su solución cloudya, gracias a la cual cualquier usuario puede utilizar sus comunicaciones unificadas con un solo usuario y contraseña. "Es un sistema fácil e independiente porque no se necesita descargar nada; y su seguridad es la parte más fuerte", matiza Boedo.  
Para finalizar esta jornada, la última mesa redonda giró sobre la realidad que ya es el entorno multicloud y qué habrá que enfrentar en la próxima década. Mónica Valle introdujo a los participantes de esta charla final: Antonio Pizarro, en primer lugar, Head of Enterprise Solutions de OVHCloud, Patxi Castillo, Director Comercial de Essi Projects y Jaime Rodríguez Molina, CIO de Abalia.  
Puede que el entorno multicloud nazca de la necesidad porque no todos ofrecen exactamente lo que los usuarios necesitan. Sin duda, la necesidad de tener controlados y asegurados nuestros datos es algo que supone un reto hoy en día. "Hay mucho trabajo todavía al interoperar sin riesgos financieros", afirmó Antonio Pizarro. Desde Essi Projects, Patxi Castillo quiso defender que "esto es algo presente y ha llegado para quedarse", matizando que "se ha roto un paradigma y estamos enfocándonos en el éxito".  
Con esto concluyó Silicon Day 2019, un día que ha reunido a profesionales y expertos del sector de la ciberseguridad  para debatir sobre los temas más actuales de ciberseguridad y cloud.